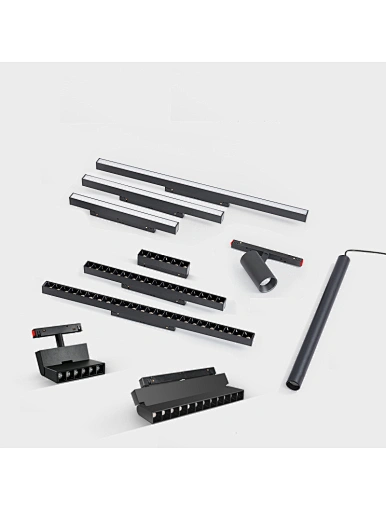 LED Magnetic Track Light
48V Safe voltage input. Free position installation.
Send inquiry to get the price list now.
Inquire now.



Product Name: magnetic track light system
As below image specification or Download the PDF catalog
Material: Aluminium 
PF:>0.9
LED Brand: OSRAM
Beam Angle: 90°
Lumen/W: 90LM/W 
CRI: >90
IP Rating: 20
Work Temp: -10 to 45℃
Approved: CE, TUV, SAA
Warranty: 5 Years
What's LED magnetic track light system?
LED magnetic track lighting system is the latest track lighting system. It runs in a safe low voltage DC48V in all the tracks, and it's much safe compared to the normal direct electricity input track system.

The lamps connect to the tracks by magnetic force, and sure with spring enforcement structures. You can slide any lamps within the track even when it's on power.

The system provides more than 3 ways of installation and can fit into many applications, such as homes, shops, offices, hotels, etc. Not to speak of a number of lamps with multiple functions.

It can dim using 0/1-10V, or even color changing using DALI or Bluetooth wireless control. And now can connect to intelligent home systems as well.